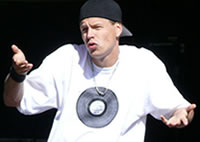 Statement
Every young person can discover him or herself through education.
When we as youth identify ourselves and our motives, it improves our self-confidence and self-esteem. When those are in place,
all doors are wide open. Therefore, it is imperative that the boundaries for education decisively nurture accessibility - of all kinds.
As an artist I have travelled around the world and met all kinds of people from many cultures. I've also seen varying circumstances.
This experience has made me stronger, and I wish to share the same with many more.
Youth on the Move campaign is an excellent opportunity to become engaged.
Europe and the World, here we come!
---
Kaikki nuoret voivat oppia tuntemaan itsensä koulutuksen avulla.
Itsensä ja tavoitteidensa tunteminen parantaa nuoren itsevarmuutta ja itsetuntoa, ja kun ne ovat kunnossa, kaikki ovet ovat avoinna. Sen takia on ehdottoman tärkeää, että koulutus järjestetään niin, että sillä edistetään kaikenlaista saavutettavuutta ja esteettömyyttä. Artistina olen matkustanut ympäri maailmaa ja tavannut paljon erilaisia ihmisiä eri kulttuureista. Olen nähnyt myös erilaisia olosuhteita.
Näiden kokemusten ansiosta minusta on tullut vahvempi ihminen, ja toivoisin muidenkin
voivan kokea saman. Nuoret liikkeellä -hanke tarjoaa tähän erinomaisen tilaisuuden.
Eurooppa ja maailma, täältä tullaan!
Interview with Signmark
---
Bio
His birth name is Marko Vuoriheimo, born on June 26, 1978 in Helsinki. He is a very popular rap artist in his country but what is even more unique in his personality is the fact that even having hearing disabilities he can still produce very inspiring music. He describes his music as party hip-hop. Born into a family of singers, Vuoriheimo believes that society should not treat the audio impaired as disabled people but as a linguistic minority with their own culture and history. Although it was only in 2004 that Vuoriheimo started creating his own music, he has written poetry and music since he was a child. Christmas carols were some of the first music he learned to sing. His debut album, Signmark was released on 29 November 2006. The album had eight songs on it, many of which dealt with the history, culture and rights of the Finnish signing community. His songs are freeform signing, despite the vocal versions rhyme. His goal is to incorporate more rhyming signed lyrics on his next album.