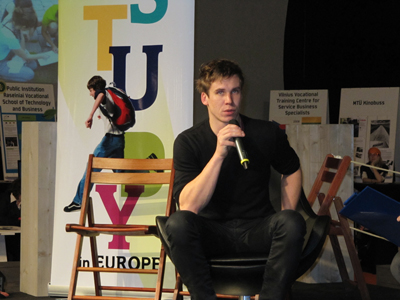 Statement
The economic crisis that has hit Europe is affecting young people the most. I see that talented, smart and educated young people are feeling hopeless and are starting to give up the fight for a job that corresponds to their knowledge. It is very sad that some of them have to start a family in this complicated situation, sometimes having no job. Therefore I believe that it is important for young people to be active and optimistic, strive to go abroad, travel around and meet new people. This is surely the biggest challenge standing before young people today, the challenge to fight unemployment and to manage to go on with their lives. There is a proverb in Estonian language saying "Something well started is half of the job done" and I totally agree with this. I believe that every young person should follow this proverb. I think it is also very important to do things together and not struggle alone. Like I said, something well started is half of the job done!
For me it is important to always do something different, gain new experience and meet new interesting people. I would like to play for different kinds of audience as it keeps me alive and fit. It lifts my mood. That is the reason why I think youth should be able to find the inner strength to set themselves new tasks and new challenges and to go for it! I guess it helps you be happier and livelier. If you smile and feel good about yourself, then everyone around you will feel the same way! And that is what I want, every young person in Europe to be able to live a happy life. And I want this to be my advice for the young generation: if you smile then everyone is smiling! One for all and all for one!
---
Ja sellises situatsioonis hakata oma elu üles ehitama, peret looma, lapsi saama, on pehmelt öeldes mõeldamatu. Ja siin ma arvan ongi oluline olla ise teotahteline, optimistlik, ja püüda väljapoole, reisida ringi, tutvuda uute inimestega. Ma arvan, et see situatsioon, kus Euroopa noored praegu on, ongi üks suur väljakutse, ongi üks suur "challenge". Seljatada töötuse probleem ja minna oma eluga tervelt edasi. Eesti keeles on üks vanasõna: "Julge pealehakkamine on pool võitu". Mina juhindun sellest. Ma arvan, et seda vanasõna võiks meeles pidada iga vähegi noor, teotahteline, terve, optimistlik inimene. Koos, ja ma arvan, et on tähtis kõike koos teha, mitte üksi rabeda. "Julge pealehakkamine on pool võitu". Ma tahan kogu aeg midagi teha. Ma tahan proovida uusi asju, kohtuda uute inimestega. Ma tahan kohtuda uue publikuga. Ma tunnen, et see hoiab mind elus, ärksana. See teeb mu tuju heaks ja ma arvan, et sellepärast võiksid kõik noored leida endas selle jõu, et seada enda ette uusi ülesandeid, uusi "challenge'ei", ja neid ületada. Aga ma arvan, et siis tunnete teie ka ennast ärksana, elus ja rõõmsana. Kui sa naeratad ja sinul on hea olla, on sind ümbritsevatel inimestel ka hea olla. Ja seda me ju tahame kõik, et meil oleks kõigil hea elada siin Euroopas. Ja ma arvan, et see on ka see nõu, mida ma julgen teistele anda. Naerata ise ja siis naeratavad ka teised. Üks kõigi ja kõik ühe eest!
Interview with Estonian Youth on the Move ambassador Rasmus Kaljujärv (actor)
---
Bio
Rasmus Kaljujärv is a famous Estonian actor. As his father was also an actor he spent his childhood and adolescence at the theatre and became very passionate about following his father's steps after finishing high school. He holds a degree from the Estonian Academy of Music and Theatre. After his graduation he worked for the Estonian Drama Theatre. Since 2006 he has been a member of the NO99 Theatre which is currently having an amazing break through at many European stages.