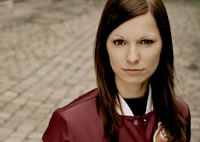 Statement
Young people often need a helping hand in order to actually realize their chances in life.
I happily support the "Youth on the Move" campaign, because it supports and encourages young people all over Europe to overcome their fears and to be open minded and simply to get involved.
---
Bio
Christina Stürmer was born on June 9, 1982 in Austria. She is a famous pop/rock singer among the young generation. After working at a bookshop in Linz and singing in several bands, she reached second place in Starmania, an Austrian music casting TV show. Her first song "Ich lebe" (I'm Alive) released in 2003, was very successful in Austria and was followed by several number one singles. In 2004 the song "Vorbei" (Over) reached the German Top 100, and in April 2005, a new version of "Ich lebe" was produced especially for the German and Swiss market. The song reached very high positions in Germany, Switzerland and Italy, making Christina Stürmer very popular particularly amongst German speaking fans. In 2006, her most successful year, she sold more than 1.5 million copies of her CDs in Austria, Germany, Switzerland and Italy.