Notizie
Alcune voci delle rubriche Notizie, Eventi e Articoli potrebbero essere disponibili solo in inglese, francese e/o tedesco.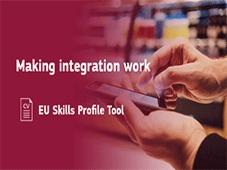 20/06/2017
The EU Skills Profile Tool for Third Country Nationals has been launched by the European Commission.
16/06/2017
Three new Flash Reports prepared by the European Social policy Network (ESPN) are now available and provide information on recent social policy developments in Croatia, the FYR of Macedonia and Turkey:
13/06/2017
The award ceremony of the first European Vocational Skills Week 2016 was one of the major highlights of the Week and showcased examples of excellence in vocational education and training (VET).
07/06/2017
Today, the Commission published a report on the European Network of Public Employment Services (PES), set up three years ago.
02/06/2017
The European Commission has proposed to provide Spain with €1 million from the European Globalisation Adjustment Fund (EGF) to help dismissed coal miners and young people not in employment, education or training (NEETs) in the Spanish region Castilla y León to find new jobs.
02/06/2017
Labour and employment ministers of G20 economies have met in Bad Neuenahr on 18-19 May to draw up recommendations for making labour markets future-proof, productive and fair. The EU was represented by Commissioner Marianne Thyssen.

30/05/2017
Today, the Commission has put the European Solidarity Corps on a firm footing by proposing a budget for the next three years and a dedicated legal base.