Uudised
Tuleb arvestada sellega, et uudised, artiklid ja üritused võivad olla kättesaadavad vaid inglise, prantsuse ja/või saksa keeles.
19/05/2017
A public survey to better understand end users' needs for online tools in the field of skills and qualifications has just been published by the Commission.
11/05/2017
Despite a number of recent national reforms which seek to improve their social protection, the self-employed still have lower coverage and benefits than salaried workers, and run a much higher risk of falling into poverty, according to a new Synthesis Report by the European Social Policy Network (ESPN)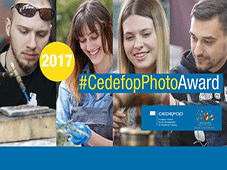 10/05/2017
The Cedefop photo competition this year is built around the collective experiences that learners go through while training in VET.
04/05/2017
Would you like to prepare the ground for an EU initiative to support low-skilled individuals to improve their literacy, numeracy or digital skills, or to assist in their progress towards higher qualifications?
28/04/2017
A 'project marketplace' has given FEAD Network members insight into how projects successfully identify and target end beneficiaries.

26/04/2017
Building a fairer Europe and strengthening its social dimension is a key priority for this Commission. Today, it delivers on its promise to adopt its proposal for the European Pillar of Social Rights.
25/04/2017
The 2017 Joint Employment Report (JER) and its Scoreboard of Key Employment and Social Indicators, adopted on 3 March 2017, provide a snapshot of recent employment and social policies implemented in Member States in line with the Employment Guidelines.