Hírek
Figyelem! Előfordulhat, hogy a Hírek, Cikkek és Rendezvények című rovatok tartalma csak angol, francia és/vagy német nyelven érhető el.
07/06/2017
Today, the Commission published a report on the European Network of Public Employment Services (PES), set up three years ago.
02/06/2017
The European Commission has proposed to provide Spain with €1 million from the European Globalisation Adjustment Fund (EGF) to help dismissed coal miners and young people not in employment, education or training (NEETs) in the Spanish region Castilla y León to find new jobs.
02/06/2017
Labour and employment ministers of G20 economies have met in Bad Neuenahr on 18-19 May to draw up recommendations for making labour markets future-proof, productive and fair. The EU was represented by Commissioner Marianne Thyssen.

30/05/2017
Today, the Commission has put the European Solidarity Corps on a firm footing by proposing a budget for the next three years and a dedicated legal base.
23/05/2017
This 'Evidence in focus' on the 2017 Joint Employment Report, adopted on 3 March 2017 by the EPSCO Council, and its Scoreboard of Key Employment and Social Indicators looks at policy efforts to address challenges for young people, including unemployment and inactivity.
22/05/2017
The Education, Youth, Culture and Sport Council adopted the revision of the European Qualifications Framework (EQF) for lifelong learning today.
22/05/2017
The European Commission today presents its 2017 country-specific recommendations (CSRs), setting out its economic policy guidance for individual Member States for the next 12 to 18 months.
19/05/2017
A public survey to better understand end users' needs for online tools in the field of skills and qualifications has just been published by the Commission.
11/05/2017
Despite a number of recent national reforms which seek to improve their social protection, the self-employed still have lower coverage and benefits than salaried workers, and run a much higher risk of falling into poverty, according to a new Synthesis Report by the European Social Policy Network (ESPN)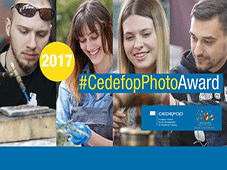 10/05/2017
The Cedefop photo competition this year is built around the collective experiences that learners go through while training in VET.