Novosti
Određene novosti, članci i događanja dostupni su samo na engleskom, francuskom i/ili njemačkom jeziku.
12/12/2017
During the eighth FEAD Network meeting in Paris on 13-14 November, the FEAD network had the opportunity to get to know stakeholders and organisations operating within France's capital city.
07/12/2017
The EU School Fruit, Vegetables and Milk Scheme has become operational for the 2017-2018 academic year.

07/12/2017
One year since the European Commission launched the European Solidarity Corps, 42,745 young people from all Member States have signed up. 2,166 of them have started their placements with 1,434 organisations.
05/12/2017
Policy measures to facilitate entrepreneurship among disadvantaged groups can help create jobs and tackle social exclusion, according to The Missing Entrepreneurs 2017, a joint report by the OECD and European Commission.

05/12/2017
On the occasion of the European Day for People with Disabilities, the European Commission today announced Lyon, France, as the winner of the Access City Award. The city was rewarded for its inclusive and universal accessibility. 
30/11/2017
As of September 2017, the UK Government has implemented a universal scheme to provide 3- and 4-year-old children of working parents in England with 30 hours of free childcare per week, an increase from the 15 hours of free provision that has been available to date.
28/11/2017
Less than two weeks after the Social Summit, which took place on 17 November in Gothenburg, European Commission President Juncker and Swedish Prime Minister Löfven take stock of its outcome. The concluding report published today will serve to frame the follow-up of the Summit, which starts with the December European Council.
27/11/2017
The European Commission has launched a public consultation to gather views of the broader public on setting up a European Labour Authority and the introduction of a European Social Security Number.
24/11/2017
Today, Commissioner for Employment, Social Affairs, Skills and Labour Mobility, Marianne Thyssen, will give a keynote speech at the closing event of the second European Vocational Skills Week.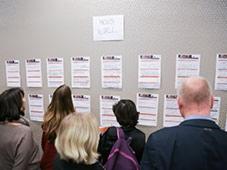 23/11/2017
The 8th FEAD Network meeting took place in Paris on 13-14 November. During the two day event, members discussed the 'many faces of FEAD' across EU countries and the possible implementations of the Fund for European Aid to the Most Deprived (FEAD) programme post 2020.