Üritused
Additional tools
Tuleb arvestada sellega, et uudised, artiklid ja üritused võivad olla kättesaadavad vaid inglise, prantsuse ja/või saksa keeles.
13/06/2016
On behalf of the ESCO Secretariat, Angeliki Dedopoulou, coordinator of the media sector in ESCO, presented ESCO at the 14th Human Resources Assembly #EBUHR2016 of the European Broadcasting Union (EBU).
10/06/2016
The Work Forum on the implementation of the United Nations Convention on the Rights of Persons with Disabilities (UN Convention) met in Brussels on 10 June.
08/06/2016
The Strategic Dialogue Meeting brought together about 45 civil society organisations from the social field to discuss concerns and ideas to be addressed in the development of a European Pillar of Social Rights.
06/06/2016
On 6 June 2016, the Commission held the first hearing with EU social partners on the European Pillar of Social Rights (the Pillar).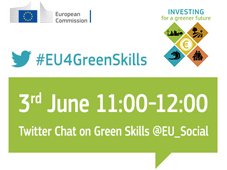 03/06/2016
What is the EU doing to foster green skills? Where are we in terms of funding to generate green jobs? Our experts answered to these and other questions via Twitter on 3 June.
02/06/2016
On 2 June, ESCO team leader Mr Martin le Vrang presented the ESCO classification on the "Intelligent Machines and the Future of Recruitment" conference in Amsterdam.
02/06/2016 - 03/06/2016
The FEAD Network launch conference was held in Brussels on 2-3 June, with over 200 delegates from around Europe joining to discuss ways of delivering the Fund for European Aid to the Most Deprived.
02/06/2016
On 22 June 2016, DG Employment, Social Affairs and Inclusion of the European Commission hosted a Thematic Event under the umbrella of the Mutual Learning Programme addressing the integration of asylum seekers and refugees.
01/06/2016 - 31/12/2017
EU cities are invited to participate in the seventh edition of the Access City Award - The European Prize for making cities more accessible to people with disabilities and older people.
30/05/2016
A first expert hearing took place on 30 May 2016 in view of reflecting on the challenges related to the future of work.