Actualité
20/07/2018
The European Commission proposed to provide the Netherlands with €1.2 million from the European Globalisation Adjustment Fund (EGF) to help 450 displaced workers in the financial services sector find new jobs.
18/07/2018
The next call for proposals on 'Transaction costs support for social enterprise finance' under the EU Programme for Employment and Social Innovation (EaSI) is expected to be published in the fourth quarter of 2018.
18/07/2018
The Directorate-General for Employment, Social Affairs and Inclusion is leading a process to update the European Code of Good Conduct for Microcredit Provision.
17/07/2018
Updated information (up to January 2018) on social protection systems in all EU countries, Iceland, Liechtenstein, Norway and Switzerland – including brief descriptions of their organisation and information on the social protection of the self-employed – is now available on the MISSOC website.
16/07/2018
The 2019 edition of the Access City Award is now receiving applications. This year also includes special culture heritage awards.
13/07/2018
Évolution de l'emploi et de la situation sociale en Europe: Le rapport de 2018 confirme les tendances positives mais souligne les défis liés, notamment, à l'automatisation et la numérisation
04/07/2018
The European Alliance for Apprenticeships (EAfA) Awards are open for nominations until 24 August 2018.
27/06/2018
The Commission is publishing today a report on digital platform workers in Europe. The report provides evidence on this emerging phenomenon based on a survey of over 32 000 people across 14 Member States.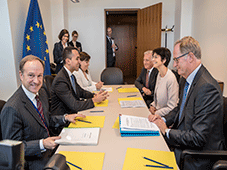 26/06/2018
Last week EU Member States reached an agreement on three legislative files which are a cornerstone of building a stronger social Europe.
19/06/2018
With the new directive, crew members will be able to work in a cross-border environment more easily as Union certificates of qualification will be valid on all EU inland waterways.