News
20/09/2010
This report presents the research findings from a joint China and EU project on New Skills for New Jobs in the context of the crisis and its impact on vulnerable groups.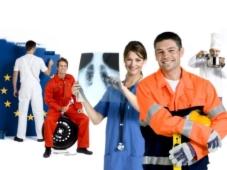 10/08/2010
The European Commission is developing a European Skills, Competences and Occupations taxonomy (ESCO), which will describe the most relevant skills, competences and qualifications needed for several thousand occupations.
04/05/2010
There could be as much as 10 million fewer jobs in the EU over the next decade as a result of the current economic crisis, though employment levels in the EU are expected to recover so that they almost reach 2008 levels by 2020.
04/02/2010
Immediate action is required to solve Europe's skills deficiencies and give Europeans a better chance of labour market success in the future, says an independent expert report published by the European Commission on February 4, 2010.
28/04/2009
Two new vacancy notices are currently open at Cedefop.
16/12/2008
Proposals for better job matching and more effective ways to analyse and predict which skills will be needed in tomorrow's labour market were presented by the European Commission on 16 December 2008.