Imeachtaí
Additional tools
Please note that news, features and events might only be available in English, French and/or German.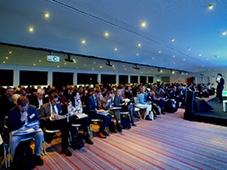 15/03/2018 - 16/03/2018
The European Commission organised a conference on 15-16 March in Brussels to celebrate 10 years of existence of the European Qualifications Framework (EQF).
08/03/2018 - 09/03/2018
The second fi-compass ESF Conference 'Financial instruments funded by the European Social Fund – boosting social impact' is taking place on 8 and 9 March in Brussels.
08/03/2018
The final conference of the "Study on integrated delivery of social services (IDSS) aiming at the activation of minimum income recipients in the labour market – success factors and reform pathways" will take place in Brussels on 8 March.
28/02/2018
The seminar, which took place in Prague, has provided the opportunity to share views on measures preventing growing polarisation of work due to the process of digitalisation and policy responses in the areas of life-long learning, tax and insurance systems and occupational health and safety.
15/02/2018 - 16/02/2018
The European conference "Investing in people – the way forward", taking place in Sofia, is part of the Bulgarian Presidency's events program and will conclude the celebrations of the 60-year anniversary of the European Social Fund.
31/01/2018
The regional conference will take place in Belgrade on 31 January, and will support joint governance efforts by the EU and enlargement countries on reforms for improving the economic and social situation of all citizens in the Western Balkans and Turkey.
12/12/2017 - 13/12/2017
Representatives of the Commission's Directorate-General for Employment, Social Affairs and Inclusion and of Canada's Employment and Social Development Department came together in Brussels for their first annual meeting under the newly created bilateral dialogue on employment, social affairs and decent work.

05/12/2017
The European Commission rewarded the most accessible cities at a ceremony during the annual European Day of Persons with Disabilities Conference in Brussels, on 5 December.
04/12/2017 - 05/12/2017
The European Commission organised together with the European Disability Forum the European Day of Persons with Disabilities on 4-5 December, in Brussels.
04/12/2017 - 08/12/2017
A delegation from Uzbekistan will participate in a week-long study visit to Saint-Josse-ten-Noode, in Brussels, between 4-8 December.