Εκδηλώσεις
Additional tools
Οι ειδήσεις, οι εκδηλώσεις και τα άρθρα μπορεί να διατίθενται μόνον στα αγγλικά, τα γαλλικά και τα γερμανικά.
27/04/2017
The EC-funded FreSsco network (Free Movement and Social Security Coordination) organised a seminar in Sofia (Bulgaria) on 27 April 2017.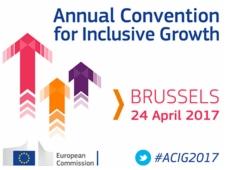 24/04/2017
The Annual Convention for Inclusive Growth took place on 24 April. It brought together policy makers and civil society to discuss what the EU can do to ensure that all citizens reap the benefits of truly inclusive growth.
28/03/2017 - 29/03/2017
On 28-29 March 2017, the sixth meeting of the Union for the Mediterranean (UfM) High Level Working Group on Employment and Labour (HLWG) took place in Barcelona, Spain, at the premises of the UfM Secretariat.
09/03/2017
The nineteenth meeting of the Contact Persons for the European Globalisation adjustment Fund (EGF) will be held in Mons (Belgium) on 9 March 2017.
08/03/2017 - 08/02/2017
A one-day networking seminar will bring together various EGF stakeholders who will learn about the role and representation of the beneficiaries in the design and implementation of EGF cases.
09/02/2017
EU Commissioner for Employment and Social Affairs, Marianne Thyssen, took part in a Citizens' Dialogue in Copenhagen.
23/01/2017
The follow-up visit with the Norwegian PES took place on 23 January 2017 in Oslo (Norway). PES representatives from ten European countries attended the follow-up visit to learn more about the activities and approaches of the Norwegian PES (Norwegian Labour and Welfare Administration – NAV) on sustainable integration practices (i.e.: how to build effective relations between the PES and employers to promote sustainability or how to organise post-placement mentoring in the workplace).

23/01/2017
In March 2016 the Commission launched a public consultation to make an assessment of the present EU social "acquis", to reflect on new trends in work patterns and societies and to gather views and feedback on the principles identified in a preliminary outline of the European Pillar of Social Rights.