Veranstaltungen
Additional tools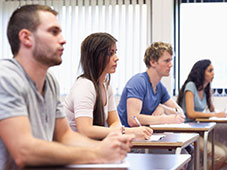 19/10/2017 - 20/10/2017
Despite progress made in the last year, Spain's youth is still facing important challenges, such as high unemployment, skill gaps and mismatches, jobs that are often below their education level or high shares of fixed-term contracts.
13/10/2017
The EC-funded FreSsco network (Free Movement and Social Security Coordination) will organise a seminar in Riga (Latvia) on 13 October 2017.
11/10/2017
A workshop focusing on how ESF monitoring and evaluation activities contribute to ESF policy design and implementation will be held in Brussels on 11 October.
10/10/2017
The conference in Brussels on 10 October was an opportunity to discuss the most recent developments and the analysis presented in the 2017 review on Employment and Social Developments in Europe (ESDE).
09/10/2017 - 10/10/2017
The "ESCO: connecting people and jobs" conference will be taking place in Brussels on 9-10 October, and will be an opportunity to share the ESCO classification with the wider public.
04/10/2017 - 06/10/2017
Unter dem Thema "Lokale Ansätze, globale Fortschritte: Bessere Systeme zur Fürsorge für und Bildung von Vorschulkindern" wird die Konferenz der ISSA von 4. bis 6. Oktober in Belgien stattfinden.
01/10/2017 - 04/10/2017
​Die International Society for the Prevention of Child Abuse and Neglect (ISPCAN) wird von 1. bis 4. Oktober eine Konferenz für ihre europäische Sektion ausrichten. Der Fokus der Konferenz wird auf überbehördliche Ansätze zur Prävention von Kindesmissbrauch und -verwahrlosung liegen.
25/09/2017 - 26/09/2017
DG Employment, Social Affairs and Inclusion and China's Ministry of Human Resources and Social Security will meet on 25 and 26 September in Brussels to discuss evolving industrial relations and its impact on sound working conditions and wage developments.
20/09/2017 - 30/11/2017
Stories of "talent" by European craftsmen is a special campaign dedicated to European craftsmanship. Professional craftsmen in all brands will be selected to narrate their story to an international audience in Paris, from 2 to 5 November.
15/09/2017
The EC-funded FreSsco network (Free Movement and Social Security Coordination) organised a seminar in Italy on 15 September 2017.