Veranstaltungen
Additional tools
27/04/2017
The EC-funded FreSsco network (Free Movement and Social Security Coordination) organised a seminar in Sofia (Bulgaria) on 27 April 2017.
27/04/2017 - 28/07/2017
The Thematic Review Workshop on 'PES Initiatives around Skills, Competencies and Qualifications of Refugees and Asylum Seekers' took place in Nuremberg, Germany, on 27 - 28 April 2017 and was hosted by the German PES. The aim of this event was to discuss how PES can support asylum seekers and refugees in the skills validation process and thus support them in joining the host labour market.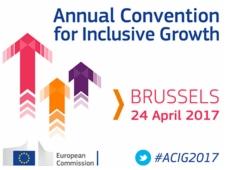 24/04/2017
The Annual Convention for Inclusive Growth took place on 24 April. It brought together policy makers and civil society to discuss what the EU can do to ensure that all citizens reap the benefits of truly inclusive growth.
28/03/2017 - 29/03/2017
On 28-29 March 2017, the sixth meeting of the Union for the Mediterranean (UfM) High Level Working Group on Employment and Labour (HLWG) took place in Barcelona, Spain, at the premises of the UfM Secretariat.
09/03/2017
The nineteenth meeting of the Contact Persons for the European Globalisation adjustment Fund (EGF) will be held in Mons (Belgium) on 9 March 2017.
08/03/2017 - 08/02/2017
A one-day networking seminar will bring together various EGF stakeholders who will learn about the role and representation of the beneficiaries in the design and implementation of EGF cases.