Прояви
Additional tools
Моля, имайте предвид, че разделите "Новини", "Прояви" и "Водещи теми" са достъпни само на английски, френски и/или немски.
16/04/2018 - 17/04/2018
More than 160 participants from Ireland attended the meeting on 16-17 April 2018 together with a European delegation of the European Alliance for Apprenticeships (EAfA) and the European Apprentices Network (EAN).
11/04/2018 - 12/04/2018
Euclid Summit is a 2-day gathering of people and organisations from across Europe who want to learn from, encourage and inspire each other to drive positive change.
22/03/2018 - 23/03/2018
The European Commission is organising a seminar on "Quality of Public Administration: What have we learned, what can we do better" on 22-23 March 2018 in Brussels.
21/03/2018 - 22/03/2018
An international conference on "The Future of Work" will take place on 21-22 March in Sofia.
21/03/2018 - 22/03/2018
The 7th meeting of the Union for the Mediterranean (UfM) High-Level Working Group on Employment and Labour took place on 21-22 March 2018 in Brussels.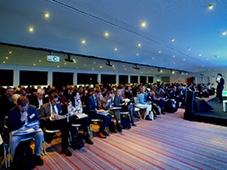 15/03/2018 - 16/03/2018
The European Commission organised a conference on 15-16 March in Brussels to celebrate 10 years of existence of the European Qualifications Framework (EQF).
08/03/2018
The final conference of the "Study on integrated delivery of social services (IDSS) aiming at the activation of minimum income recipients in the labour market – success factors and reform pathways" will take place in Brussels on 8 March.
08/03/2018 - 09/03/2018
The second fi-compass ESF Conference 'Financial instruments funded by the European Social Fund – boosting social impact' is taking place on 8 and 9 March in Brussels.
28/02/2018
The seminar, which took place in Prague, has provided the opportunity to share views on measures preventing growing polarisation of work due to the process of digitalisation and policy responses in the areas of life-long learning, tax and insurance systems and occupational health and safety.
15/02/2018 - 16/02/2018
The European conference "Investing in people – the way forward", taking place in Sofia, is part of the Bulgarian Presidency's events program and will conclude the celebrations of the 60-year anniversary of the European Social Fund.