News
25/11/2015
The economic crisis has put income inequality high on the political agenda. Thomas Piketty's "Capital in the 21st century" made the topic also a subject of coffee breaks, while Wilkinson and Pickett's "The Spirit Level" illustrated how inequality is associated with various social ills in our societies.
18/11/2015
The European Commission has today launched a public consultation on how to improve work-life balance and reduce obstacles to women's participation in the labour market, thereby contributing to the employment headline target of the Europe 2020 Strategy.
14/10/2015
Europe is ageing. More than 130 million people in the European Union, or about a quarter of the total population, receive a pension. By and large, the national pension systems make sure that older citizens receive a stable income after the end of their working life and are not threatened by poverty. In fact, the risk of being poor in the EU is lower among the elderly above age 65 as compared to the population below age 65.
16/09/2015
In all EU countries, social security systems are in place to provide a safety net to those who lose their jobs. Much has been said about the generosity of unemployment benefits that may entice workers to stay at home rather than to look for a job, or about the need to make sure that the unemployed receiving benefits also meet obligations to actually look for a job or get training.
07/09/2015
A report commissioned by the European Commission from the European Social Policy Network of independent experts (ESPN) published today shows an inadequate response in the Member States regarding the reintegration of the long-term unemployed.
02/09/2015
While more and more people experience poverty at some point in their life, a short-lived experience is certainly different in nature than long-term poverty.
24/11/2014
The European Commission and the World Bank have recently unveiled a report profiling the unemployed and inactive populations in six EU countries (Estonia, Lithuania, Romania, Hungary, Bulgaria and Greece).
15/10/2014
The EU's Council of Employment and Social Policy Ministers will meet on 16 October in Luxembourg.
09/04/2014
The Insign project was demonstrated for first time on 9 April 2014 at an event in the European Parliament. Deaf sign language users and hard of hearing citizens during two live demonstrations contacted different Members of the European Parliament with the innovative Insign platform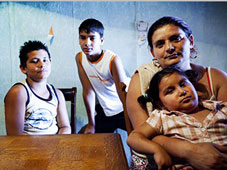 04/04/2014
Concerted action by the European Commission has put Roma integration firmly on the political agenda across Europe.