Uutiset
Osa uutisista, tapahtumakuvauksista ja erikoisaiheita käsittelevistä artikkeleista on saatavilla ainoastaan englanniksi, ranskaksi ja/tai saksaksi.
01/07/2016
The evaluation report 'Pilot projects to carry out ESF related counterfactual impact evaluations' sheds light on the effectiveness of some European Social Fund (ESF) interventions.
28/06/2016
Today, the Commission published its summer edition of the Employment and Social Situation Quarterly review (ESSQR).
27/06/2016
On 27 June, Vice-President for the Euro and Social Dialogue Valdis Dombrovskis together with Commissioner for Employment, Social Affairs, Skills and Labour Mobility, Marianne Thyssen, signed on behalf of the Commission a statement on a 'new start for social dialogue'.
27/06/2016
A high-level delegation from the Skills Development Division of the Singapore Workforce Development Agency (WDA) visited the ESCO team of the European Commission on the 23rd of June.
27/06/2016
The Council calls on the Commission and the Member States to develop an integrated approach to combat poverty and social exclusion by combining adequate income support, access to quality services and inclusive labour markets, while ensuring equal opportunities for women and men.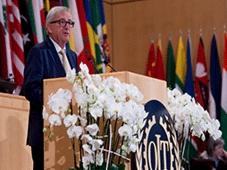 24/06/2016
Commission President Jean-Claude Juncker was the guest of honour of this year's International Labour Conference, the supreme body of the International Labour Organisation (ILO), that took place in Geneva over May-June 2016.
22/06/2016
Last year, the Hungarian government introduced an extensive reform of the social protection system, notably separating provisions for income and expense compensation.
15/06/2016
One of the legacies of the crisis is an increased number of people at risk of poverty. These are people with household incomes below 60% of the median income in their country. The share of people at risk of poverty (or the 'at-risk-of-poverty rate', AROP) increased from 13.5 per cent in 2007 to 15.9 per cent in 2014 among the working-age population (20-64 years old) – a rise of almost 20% (EU average excluding Croatia and Malta).
07/06/2016
The Commission has adopted a new and comprehensive Skills Agenda for Europe today. The aim is to ensure that people develop a broad set of skills from early on in life and to make the most of Europe's human capital, which will ultimately boost employability, competitiveness and growth in Europe.
02/06/2016
On 22 June 2016, DG Employment, Social Affairs and Inclusion of the European Commission hosted a Thematic Event under the umbrella of the Mutual Learning Programme addressing the integration of asylum seekers and refugees.