Ziņas
Ņemiet vērā, ka jaunumi, raksti un notikumu apraksti var būt pieejami tikai angļu, franču un/vai vācu valodā.
13/05/2015
Further policy is needed to return to self-sustaining growth. The European Commission today adopted country-specific economic policy recommendations for 2015 and 2016 asking for national actions to create jobs and stimulate growth.

04/02/2015
Today the European Commission proposes to make 1 billion euro from the Youth Employment Initiative (YEI) available as early as this year.
03/02/2015
The European Commission has proposed to mobilise the European Globalisation Adjustment Fund (EGF) to help 1,633 workers made redundant in the media sectors (publishing, programming and broadcasting) in Attica (Greece).
15/01/2015
Countries providing high quality jobs and effective social protection and investing in human capital have proved to be more resilient to the economic crisis. This is one of the main findings of the 2014 Employment and Social Developments in Europe Review, which has looked back to the legacy of the recession.
28/11/2014
Putting Europe firmly back on track of sustainable job creation and economic growth, that is the focus of the 2015 Annual Growth Survey (AGS), published today.

07/10/2014
European Commission President José Manuel Barroso will press EU leaders to live up to their budget commitments at a special summit on employment in Milan on 8 October.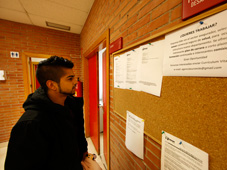 06/10/2014
The economic recovery which started in the spring of 2013 remains fragile and future employment developments remain uncertain, according to the European Commission's latest Employment and Social Situation Quarterly Review.
23/09/2014
The European Commission welcomes today's official launch of the Public Employment Services Network, a new cooperation structure helping Member States further coordinate their policies and actions against unemployment and reinforcing the European economic governance framework.
18/09/2014
Members States are meeting on 18-19 September in Helsinki to review the implementation of the Youth Guarantee in Finland, a pioneer country in developing this scheme.
09/09/2014
The European Commission is meeting with the coordinators of 18 Youth Guarantee pilot projects at a seminar in Brussels today. The meeting will review achievements and lessons learned.