Events
Additional tools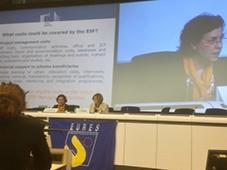 26/04/2013
In the conference held in Brussels on 26 April, EURES Members were invited to take part in presentations about the future funding of EURES through the European Social Fund (ESF), as well as meeting with representatives from ESF in their respective countries and on the European level.
04/03/2013 - 05/03/2013
This European Conference officially launches the Grand Coalition for Digital Jobs by adopting a shared roadmap and announcing stakeholder pledges to joint action.

25/01/2013
Trainees from inside and outside the European institutions met on 25 January in Brussels to discuss ways to improve the quality of traineeships in Europe.
07/12/2012
Join Commissioner Andor for a live twitter chat on Friday, 7th December from 14h15 CET (Central European Time) to 15h00 CET.
06/09/2012 - 07/09/2012
The Commission held a major conference on employment policy, under the title "Jobs for Europe", on 6-7 September 2012.
27/04/2012
Youth@Work will be present at the European Online Job Day (EOJD) on 27 April, 2012.
27/04/2012
The Aarhus Recruitment Fair will take place in the Musikuset Aarhus on 27 April, 2012.
13/03/2012 - 14/03/2012
Youth@Work to feature at the Sofia National Career Days
09/03/2012
Aimed at graduates and job seekers, the European Job Days event will take place in the Atrium at Tallinn University.
03/03/2012
Youth@Work to feature at the Athens Education & Employment Exhibition.