Aktuality
Aktuality, akce a články mohou být k dispozici pouze v angličtině, francouzštině a/nebo němčině.
05/07/2016
On 1 July 2016 a major new initiative of the German Federal Government for job-related language courses for migrants entered into force.
01/07/2016
How household incomes and wealth are distributed, what socio-economic consequences that has and how the distribution is affected by public policies have gained considerable and increasing attention in academic and policy debates in recent years.
01/07/2016
The evaluation report 'Pilot projects to carry out ESF related counterfactual impact evaluations' sheds light on the effectiveness of some European Social Fund (ESF) interventions.
01/07/2016
Three new Flash Reports prepared by the European Social policy Network (ESPN) have just become available and provide information on recent policy initiatives in Romania and the Czech Republic.
28/06/2016
Today, the Commission published its summer edition of the Employment and Social Situation Quarterly review (ESSQR).
27/06/2016
A high-level delegation from the Skills Development Division of the Singapore Workforce Development Agency (WDA) visited the ESCO team of the European Commission on the 23rd of June.
27/06/2016
The Council calls on the Commission and the Member States to develop an integrated approach to combat poverty and social exclusion by combining adequate income support, access to quality services and inclusive labour markets, while ensuring equal opportunities for women and men.
27/06/2016
On 27 June, Vice-President for the Euro and Social Dialogue Valdis Dombrovskis together with Commissioner for Employment, Social Affairs, Skills and Labour Mobility, Marianne Thyssen, signed on behalf of the Commission a statement on a 'new start for social dialogue'.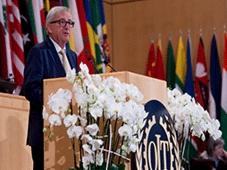 24/06/2016
Commission President Jean-Claude Juncker was the guest of honour of this year's International Labour Conference, the supreme body of the International Labour Organisation (ILO), that took place in Geneva over May-June 2016.
22/06/2016
Last year, the Hungarian government introduced an extensive reform of the social protection system, notably separating provisions for income and expense compensation.