Evenementen
Additional tools
N.B. Het is mogelijk dat nieuwsberichten, artikels en evenementen alleen in het Engels, Frans en/of Duits beschikbaar zijn.
12/05/2017
Educators, trainers, employers, innovators and policy experts came together in Brussels on 12 May to discuss DigComp, the European Digital Competence Framework for Citizens, and EntreComp, the European Entrepreneurship Competence Framework.
27/04/2017
The EC-funded FreSsco network (Free Movement and Social Security Coordination) will organise a seminar in Sofia (Bulgaria) on 27 April 2017.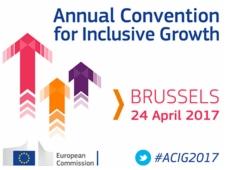 24/04/2017
The Annual Convention for Inclusive Growth took place on 24 April. It brought together policy makers and civil society to discuss what the EU can do to ensure that all citizens reap the benefits of truly inclusive growth.
28/03/2017 - 29/03/2017
On 28-29 March 2017, the sixth meeting of the Union for the Mediterranean (UfM) High Level Working Group on Employment and Labour (HLWG) took place in Barcelona, Spain, at the premises of the UfM Secretariat.
09/03/2017
The nineteenth meeting of the Contact Persons for the European Globalisation adjustment Fund (EGF) will be held in Mons (Belgium) on 9 March 2017.
08/03/2017 - 08/02/2017
A one-day networking seminar will bring together various EGF stakeholders who will learn about the role and representation of the beneficiaries in the design and implementation of EGF cases.
09/02/2017
EU Commissioner for Employment and Social Affairs, Marianne Thyssen, took part in a Citizens' Dialogue in Copenhagen.

23/01/2017
In March 2016 the Commission launched a public consultation to make an assessment of the present EU social "acquis", to reflect on new trends in work patterns and societies and to gather views and feedback on the principles identified in a preliminary outline of the European Pillar of Social Rights.
09/12/2016
How have MLP activities informed or influenced the way policy issues or themes are addressed at the national level? In what way have the MLP activities encouraged further exchanges between countries?

05/12/2016 - 09/12/2016
This first European Vocational Skills Week took place from 5 to 9 December 2016 with events in Brussels and parallel activities in Member States, EFTA and EU candidate countries at national, regional and local levels.