Eventi
Additional tools
Alcune voci delle rubriche Notizie, Eventi e Articoli potrebbero essere disponibili solo in inglese, francese e/o tedesco.
27/10/2016
COFACE-Families Europe, representing 25 million families across 23 countries, wished to actively participate in shaping the future social rights pillar, starting with a half-day reflection seminar in Brussels on 27th September 2016 co-hosted with the European Economic and Social Committee.
20/10/2016 - 21/10/2016
The European Commission, in collaboration with the Università Cattolica del Sacro Cuore in Milan, organised the Counterfactual Methods for Policy Impact Evaluation 2016 (COMPIE 2016) conference on 20 and 21 October 2016.
13/10/2016
The eighteenth meeting of the Contact Persons for the European Globalisation adjustment Fund (EGF) will be held in Dublin on 13 October 2016.
13/10/2016
The EC-funded FreSsco network (Free Movement and Social Security Coordination) organised a seminar in Bucharest (Romania) on 13 October 2016.
12/10/2016
A one-day networking seminar will bring together various EGF stakeholders who will learn about strategies to motivate redundant workers to proactively participate in their reintegration into employment.
10/10/2016
A one day seminar will be organised to present research evidence in relation to the present and future of European welfare and work, reversing inequalities, social investment and poverty.
10/10/2016 - 13/10/2016
The 14th European Week of Regions and Cities 2016 will take place in Brussels from 10 to 13 October.
10/10/2016
The first plenary meeting of the European Platform tackling undeclared work took place on 10 October 2016 in Brussels.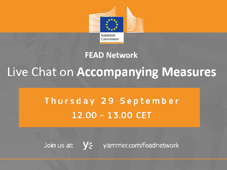 29/09/2016
The FEAD Network is holding its first live chat on Yammer on 29 September. The ''Sustainable Integration: Challenges, solutions and good practices from the accompanying measures" online event will follow an event in Brussels on 26 September around the same topic.
27/09/2016 - 28/09/2016
The Mutual Learning Programme organised a Learning Exchange focused on supporting the integration of young people not in education, employment or training (NEETs) on the 27th and 28th of September 2016 in Brussels (Belgium).