Actividades
Additional tools
Algunas noticias, artículos y actividades pueden estar disponibles sólo en alemán, francés o inglés.
10/06/2016
The Work Forum on the implementation of the United Nations Convention on the Rights of Persons with Disabilities (UN Convention) is meeting in Brussels on 10 June.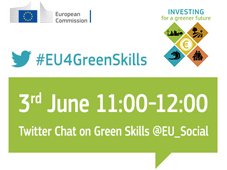 03/06/2016
What is the EU doing to foster green skills? Where are we in terms of funding to generate green jobs? Ask our experts via Twitter on 3 June at 11:00-12:00 with the hashtag #EU4GreenSkills!
02/06/2016 - 03/06/2016
The FEAD Network is a new open membership community for people providing assistance to the most deprived in Europe.
27/05/2016
On 27 May 2016 the European Platform to enhance cooperation in tackling undeclared work will be launched in Brussels.
26/05/2016
The EC-funded FreSsco network (Free Movement and Social Security Coordination) will organise a seminar in Dublin (Ireland) on 26 May 2016.
12/05/2016
By restricting access to early retirement, raising the pensionable age and linking it to life expectancy, recent pension reforms have sought to create strong incentives for longer working lives.
21/04/2016
On 21 April partners of the BESPAT project discussed the European dimension of personal and household services (PHS) with members of the EU institutions and representatives of the most important European PHS networks.
14/04/2016
On 14 April 2016, the fifth meeting of the Union for the Mediterranean (UfM) High Level Working Group on Employment and Labour (HLWG) took place in Brussels.
13/04/2016
On 13 April a conference was organised by IMPact (Improving Measurement of Public Support to Personal and Household Services), an EU project co-funded by the PROGRESS programme of the EU.
21/03/2016
The Convention brought together policy makers and civil society to discuss what the EU can do to ensure that all citizens reap the benefits of truly inclusive growth.