Novice
Successful third edition of the SeniorSTAR contest in the Czech Republic
05/06/2012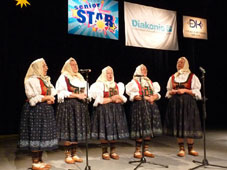 For third consecutive year, the Diaconia ECCB Center in Vsetin, the Czech Republic, has organised an unusual SeniorSTAR song contest, focused on people more than 60 years old.
Senior singers from 13 municipalities and cities of the Zlín Region participated in the contest, which took place on April 19th at the House of Culture in Vsetín.
The director of the singing competition for seniors and director of the Diaconia Vsetin centre, Dan Žárský, explained: "Today the society is mainly looking for very young music stars. Our objective is to focus also on the elderly, that are not less talented and in addition enrich us with their experience, stability, wisdom and humility."
Jiri Pavlica, a famous Czech musician, composer and leader of the acclaimed folk music band Hradišťan, was the patron of the competition.
The audience prize was given  to Bohumila Špůrková,  from the municipality of Zašová. The award of the jury of experts, presided by Jan Rokyta, went to Miroslav Poruba, representing the municipality of  Dolní Bečva.
Pictures of the event are available here.