Wydarzenia
Additional tools
Sekcje "Aktualności", "Artykuły" i "Wydarzenia" mogą być dostępne jedynie w językach: angielskim, francuskim lub niemieckim.
02/10/2014 - 03/10/2014
The European Commission - in cooperation with the Council of Europe - has convened a high level international conference in Brussels on 2 and 3 October 2014 to take stock of progress and lessons learned in integrating Roma at the local level with the support of the ROMACT programme.
26/11/2013 - 27/11/2013
The Third Annual Convention of the European Platform against Poverty and Social Exclusion, one of the Flagship initiatives of the Europe 2020 strategy, took place on 26-27 November 2013 in Brussels.
01/03/2013
The Irish Presidency of the EU hosted a Roundtable of EU Ministers with responsibility for homelessness on 1st March at the Irish College in Leuven, Belgium.
05/12/2012 - 07/12/2012
The Commission in partnership with the Cyprus Presidency held the Second Annual Convention of the Platform against Poverty and Social Exclusion on 5-6-7 December in Brussels.
08/06/2012
In June 2011, the European Commission published its legislative proposals for the next Multiannual Financial Framework (MFF).
10/05/2012 - 11/05/2012
The 11th 'European Meeting of People Experiencing Poverty' will take place in Egmont Palace, 8, Place du Petit Sablon, Brussels on the 10 and 11 May.
17/10/2011 - 18/10/2011
The Convention, to be organised on 17-18 October in Krakow, will review the progress made towards the headline target of reducing poverty and social exclusion by at least 20 million by 2020 and the implementation of the European Platform against Poverty. It will also debate suggestions for future actions.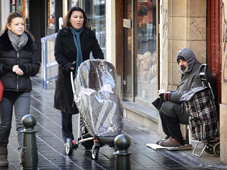 28/06/2011
This seminar aims to bring together key stakeholders, particularly policy-makers responsible for homelessness and managing authorities of the ERDF and the ESF, to consider how the structural funds can enhance social innovation in the area of homelessness in EU Member States.
13/05/2011 - 14/05/2011
The annual European Meeting of People Experiencing Poverty will take place in Brussels on 13-14 May and will focus on the reality of work.
09/12/2010 - 10/12/2010
The Consensus Conference will address six key questions relating to homelessness, on which there is a lack of consensus.