Nieuws
Peer review on public employment services and effective services for employers
16/01/2012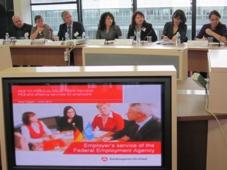 Pôle emploi, the public employment service (PES) of France, will host this peer review from 19-20 January in Paris.
Representatives from the PES in Austria, Belgium (VDAB and ACTIRIS), Bulgaria, Estonia, Finland, Germany, Hungary, Ireland, Lithuania, the Netherlands, Slovenia, Sweden and the UK will attend.
The peer review aims to identify and explore good practice in the field of PES services for employers. It is part of 'PES to PES Dialogue', the European Commission's mutual learning support programme for public employment services (PESs).

The peer review will collect views on:
How services to employers can be effectively defined and organised within the overall PESs mission and strategy
Key considerations for PESs in reaching out to and binding employers
The most effective ways to support the re-integration of disadvantaged individuals in collaboration with employers.