Notikumi
Additional tools
Ņemiet vērā, ka jaunumi, raksti un notikumu apraksti var būt pieejami tikai angļu, franču un/vai vācu valodā.
04/09/2013
Young people in Europe are today confronted with various challenges: the crisis and the resulting dramatic increase of youth unemployment, rapidly changing living conditions and an ageing population.
02/07/2013
The European Alliance for Apprenticeships was launched in Leipzig on 2 July and aims to increase the quality and supply of apprenticeships across Europe and change mind-sets towards apprenticeship-type learning. This would facilitate a smooth transition of young people from education to work.
05/06/2013 - 06/06/2013
The conference will provide information and working sessions on apprenticeship and traineeship schemes throughout the EU, including a consideration of how European funding can be used to develop new schemes or improve existing ones.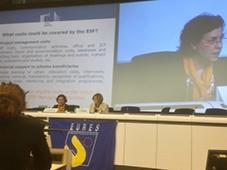 26/04/2013
In the conference held in Brussels on 26 April, EURES Members were invited to take part in presentations about the future funding of EURES through the European Social Fund (ESF), as well as meeting with representatives from ESF in their respective countries and on the European level.
25/01/2013
Trainees from inside and outside the European institutions met on 25 January in Brussels to discuss ways to improve the quality of traineeships in Europe.
06/09/2012 - 07/09/2012
The Commission held a major conference on employment policy, under the title "Jobs for Europe", on 6-7 September 2012.
27/04/2012
The Aarhus Recruitment Fair will take place in the Musikuset Aarhus on 27 April, 2012.
27/04/2012
Youth@Work will be present at the European Online Job Day (EOJD) on 27 April, 2012.
13/03/2012 - 14/03/2012
Youth@Work to feature at the Sofia National Career Days
09/03/2012
Aimed at graduates and job seekers, the European Job Days event will take place in the Atrium at Tallinn University.