Ziņas
Ņemiet vērā, ka jaunumi, raksti un notikumu apraksti var būt pieejami tikai angļu, franču un/vai vācu valodā.
22/01/2018
The Fund for European Aid to the Most Deprived (FEAD) has launched its case study catalogue which provides a snapshot of the projects and initiatives that were funded across the EU throughout 2017.
20/12/2017
The FEAD Network has published its second Thematic Dossier. This thematic dossier presents the main outcomes of FEAD Network discussions in 2017 on supporting a variety of target groups through FEAD-funded initiatives.
12/12/2017
During the eighth FEAD Network meeting in Paris on 13-14 November, the FEAD network had the opportunity to get to know stakeholders and organisations operating within France's capital city.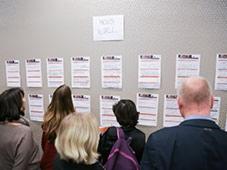 23/11/2017
The 8th FEAD Network meeting took place in Paris on 13-14 November. During the two day event, members discussed the 'many faces of FEAD' across EU countries and the possible implementations of the Fund for European Aid to the Most Deprived (FEAD) programme post 2020.
18/10/2017
FEAD Network's first Thematic Dossier has just been published. It presents the key learning outcomes from the various Network discussions on sustainable social inclusion.
09/10/2017
The 7th FEAD network meeting took place in Brussels on 21 September.