Naujienos
EGF pays €24.3 million to help redundant workers in Austria, Denmark, Finland, Italy, Romania, Spain and Sweden
22/03/2013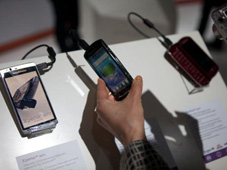 The European Commission has just made payments to Austria, Denmark, Finland, Italy, Romania, Spain and Sweden from the European Globalisation adjustment Fund (EGF).
The total amount of €24.3 million will help 5,271 workers in those countries back into employment, following their dismissals in a wide variety of sectors including automotive, motorcycles, mobile phones, metal products, electronic equipment and social work activities.
The break-down of the total €24.3 million is as follows:
€8.2 million will help 2,416 former workers of Nokia (1,000 in Finland and 1,416 in Romania) who lost their job as a result of the transfer of mobile phone assembly lines to Asian countries.
€5.4 million will help 1,350 former workers of Saab in Sweden. The redundancies are a consequence of the geographical shift of production to Asia, due to the growing demand for passenger cars in Asian markets.
€5.2 million will help 350 workers made redundant in Steiermark in Austria. The dismissals in Steiermark's mobile social services sector (provision of mobile social services for the disabled and mobile youth assistance) is a consequence of social budget cuts resulting from the current economic and financial crisis.
€2.7 million will help 502 workers dismissed by ten manufacturers of motorcycles, spare parts or components for the motorcycle and moped industry in Italy, which is Europe's main centre of production in this sector. The redundancies are the result of the drop in demand for such vehicles throughout Europe.
€1.4 million will help 153 former workers of Flextronics Denmark, a producer of printed circuit boards. The redundancies are a direct consequence of the major structural changes in world trade patterns, whereby electronic equipment facilities are moving to Asia. In this case, the Singapore Flextronics headquarters decided to close the Danish subsidiary.
€1.3 million will help 500 dismissed workers from Spanish manufacturers of fabricated metal products. The metal products sector is a major supplier of a wide range of manufacturing industries, notably in the shipbuilding, construction and automotive sectors. All these activities were significantly impacted across the EU by the economic crisis, as demonstrated in previous applications for EGF support.
These payments are the result of proposals made by the Commission to the European Parliament and the Council of Ministers, following applications for EGF funding by the countries concerned. Council and Parliament have approved these proposals, leading to the release of the funds.