Notizie
Re-employment of the long-term unemployed - a pressing European challenge
18/09/2015
© gpointstudio / Shutterstock
Despite the decline in unemployment since 2013, long-term unemployment has only now ceased rising and the prospects of returning to jobs for those who have been unemployed for more than one year remain very low.
The long-term unemployed in the EU have about half the chance of getting back to employment compared to the short-term unemployed, and this situation worsened due to the crisis based on EUROSTAT preliminary flow statistics of an experimental nature (see Chart below). Towards the end of the crisis, job finding rates dropped below 20% after 18 months of unemployment from close to 30% at the beginning of the crisis.
At the same time fewer people moved from unemployment into inactivity, meaning that in spite of the difficult conditions people did not give up looking for a job. This suggests stronger labour market attachment among the long-term unemployed in the current crisis than in previous recessions. It also means that additional and targeted policy efforts may help those in long-term unemployment finding a job.
The stronger attachment is partly explained by a change in the composition of the long-term unemployed population (less of older workers) and is partly a reflection of changing behaviour among the long-term unemployed especially among women and older workers. Several policy reforms such as investments in childcare and the closure of early retirement routes have strengthened the incentives to stay in the labour market during the last decade.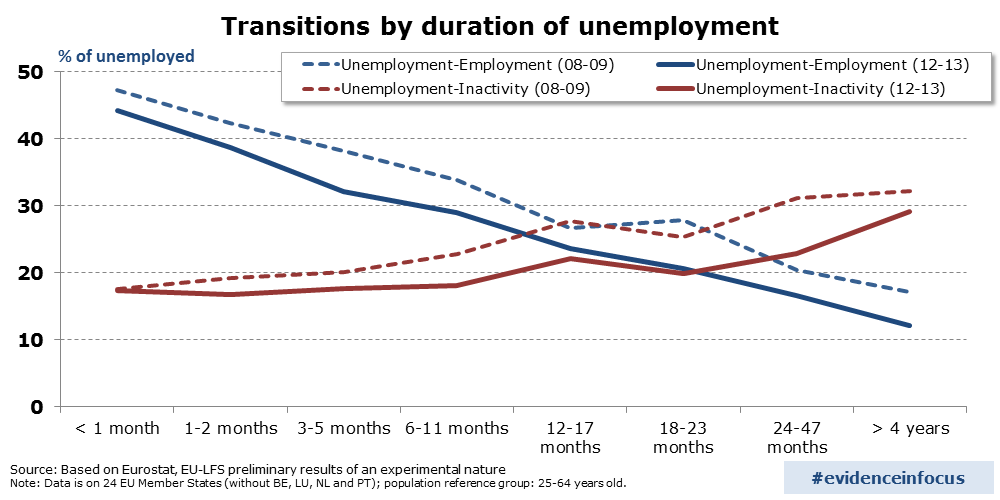 The low prospects of returning to jobs for the long-term unemployed are not only related to the scarcity of jobs, but also to accumulated "scarring" effects such as skills atrophy combined with a failure to acquire new on-the-job skills, lower earnings potential, poorer health, unfavourable employers' attitudes towards the long-term unemployed. Over time, this can lead to permanent alienation from the labour market with consequent risks of poverty and social exclusion and waste of human capital.
The sheer number of the long-term unemployed in the EU, the obstacles they face, and the negative implications for individuals and society make the reintegration of the 12 million long-term unemployed back into employment a pressing EU challenge. The European Commission supports tackling this challenge with a new initiative on long-term unemployment.
Information provided here is based on the analysis from the forthcoming Chapter on Long-term unemployment in European Commission, 'Employment and Social Developments in Europe', 2015.
Author: L. Salanauskaite works as socio-economic analyst at the Employment Analysis unit of the DG EMPL.
The views expressed in this article do not necessarily reflect the views of the European Commission.
Editor's note: this article is part of a regular series called "Evidence in focus", which will put the spotlight on key findings from past and ongoing research at DG EMPL.