Eventi
Additional tools
Alcune voci delle rubriche Notizie, Eventi e Articoli potrebbero essere disponibili solo in inglese, francese e/o tedesco.

05/12/2017
EU cities are invited to participate in the eighth edition of the Access City Award - The European Prize for making cities more accessible to people with disabilities and older people.
27/09/2017 - 28/09/2017
The European Commission, UNECE, the University of the Basque Country, the Oxford Institute of Population Ageing, with the support of the Government of Biscay (Spain), are organising a Second International Seminar on the Active Ageing Index (AAI) in Bilbao in September 2018.
26/06/2017 - 28/06/2017
Organised annually by the European Social Network (ESN), the European Social Services Conference brings together all those with an interest in social welfare to exchange knowledge on contemporary social policy and practice.
19/05/2017
The Work Forum on the implementation of the United Nations Convention on the Rights of Persons with Disabilities (UN Convention) was meeting in Brussels on 19 May.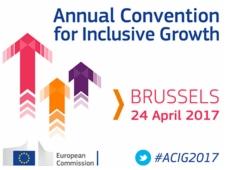 24/04/2017
The Annual Convention for Inclusive Growth took place on 24 April. It brought together policy makers and civil society to discuss what the EU can do to ensure that all citizens reap the benefits of truly inclusive growth.