Notizie
Alcune voci delle rubriche Notizie, Eventi e Articoli potrebbero essere disponibili solo in inglese, francese e/o tedesco.

04/10/2016
Today, the European Commission adopted a Communication that highlights the main achievements of the Youth Guarantee and Youth Employment Initiative (YEI) since their launch in 2013 and draws lessons on how to improve the EU and national efforts on deploying national Youth Guarantee schemes.
10/12/2015
Our #lovemyapprenticeship contest, a photo and video competition for apprentices across Europe, has now come to a close. We are happy to announce the winner!
11/11/2015
With the onset of the crisis, employment rates and especially youth employment and youths' labour market performance deteriorated quite rapidly in the EU. A chart featured in the Employment and Social Situation Quarterly Review of June 2015 showed that the worst seems to be over, but it remains to be seen whether this trend reversal is confirmed.
13/05/2015
Further policy is needed to return to self-sustaining growth. The European Commission today adopted country-specific economic policy recommendations for 2015 and 2016 asking for national actions to create jobs and stimulate growth.

04/02/2015
Today the European Commission proposes to make 1 billion euro from the Youth Employment Initiative (YEI) available as early as this year.
03/02/2015
The European Commission has proposed to mobilise the European Globalisation Adjustment Fund (EGF) to help 1,633 workers made redundant in the media sectors (publishing, programming and broadcasting) in Attica (Greece).
15/01/2015
Countries providing high quality jobs and effective social protection and investing in human capital have proved to be more resilient to the economic crisis. This is one of the main findings of the 2014 Employment and Social Developments in Europe Review, which has looked back to the legacy of the recession.
28/11/2014
Putting Europe firmly back on track of sustainable job creation and economic growth, that is the focus of the 2015 Annual Growth Survey (AGS), published today.

07/10/2014
European Commission President José Manuel Barroso will press EU leaders to live up to their budget commitments at a special summit on employment in Milan on 8 October.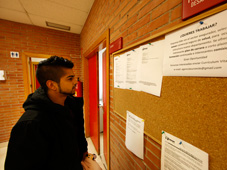 06/10/2014
The economic recovery which started in the spring of 2013 remains fragile and future employment developments remain uncertain, according to the European Commission's latest Employment and Social Situation Quarterly Review.