Rendezvények
Additional tools
Figyelem! Előfordulhat, hogy a Hírek, Cikkek és Rendezvények című rovatok tartalma csak angol, francia és/vagy német nyelven érhető el.
09/12/2013 - 10/12/2013
The European Commission organises the Conference "Telling the Story – Communicating European Structural and Investment Funds 2014-2020" in Brussels on 9-10 December 2013.
03/12/2013
The European Commission in co-operation with Transparency International is organising on 3 December 2013 between 9 and 5pm in Brussels a Conference on anti-fraud and anti-corruption measures in relation to the use of European Structural and Investment Funds.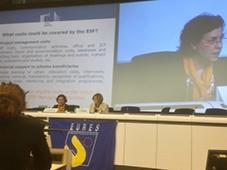 26/04/2013
In the conference held in Brussels on 26 April, EURES Members were invited to take part in presentations about the future funding of EURES through the European Social Fund (ESF), as well as meeting with representatives from ESF in their respective countries and on the European level.
26/11/2012
The conference will discuss with policy makers and practitioner how to best shape EU support to social innovation in the context of the Social Investment Package for Growth and Cohesion.
23/05/2011 - 25/05/2011
As the continuation of the series of High Level Events (HLE), organised in Hungary in 2009 and in Romania in 2010, the European Commission is organising the next HLE in Slovakia.
31/03/2011 - 01/04/2011
The ESF Learning Network "Community of Practice for Inclusive Entrepreneurship" - COPIE 2 will hold a conference on "Kick-starting Economic Recovery - the Role of Entrepreneurship in the Structural Funds" on 31 March - 1 April in Berlin.
15/09/2010
A 2008. szeptemberében Brüsszelben tartott, romákkal kapcsolatos uniós csúcstalálkozó (EU Roma Summit) és a Budapesten, Debrecenben, Miskolcon, Pécsett és Szegeden 2009 októberében megrendezett magas szintű rendezvények folytatásaként, a 2010 – A szegénység és a társadalmi kirekesztés elleni küzdelem európai éve keretében az Európai Bizottság 2010. szeptember 15-én egy szeminárium szervez Budapesten, melynek témája a romák integrációját szolgáló európai uniós források felhasználásának megkönnyítése.
23/06/2010 - 24/06/2010
The main objective of the Europe 2020 Strategy is to achieve smart, sustainable and inclusive growth.
13/10/2009 - 15/10/2009
Following the EU Roma Summit in Brussels on 16 September 2008, the Commission committed to organize a series of High Level Events in the Member States on the best way to use resources from the structural funds to improve the situation of the Roma.
06/10/2008 - 09/10/2008
The European Commission and the Committee of the Regions have joined forces with the European Parliament and are organising this annual event since 2004.