Imeachtaí
Additional tools
Please note that news, features and events might only be available in English, French and/or German.
08/03/2018 - 09/03/2018
The second fi-compass ESF Conference 'Financial instruments funded by the European Social Fund – boosting social impact' is taking place on 8 and 9 March in Brussels.
15/02/2018 - 16/02/2018
The European conference "Investing in people – the way forward", taking place in Sofia, is part of the Bulgarian Presidency's events program and will conclude the celebrations of the 60-year anniversary of the European Social Fund.
11/10/2017
A workshop focusing on how ESF monitoring and evaluation activities contribute to ESF policy design and implementation will be held in Brussels on 11 October.
17/05/2014
To celebrate Europe Day in the weeks leading up to the European elections, the EU institutions will open their doors to the public in Brussels, Luxembourg and Strasbourg. Local EU offices in Europe and all over the world will also organise a variety of activities and events for all ages.
06/02/2014 - 07/02/2014
The European Commission, together with the Greek Presidency of the European Council, organised a launch conference for the new programming period of the European Social Fund.
09/12/2013 - 10/12/2013
The European Commission organises the Conference "Telling the Story – Communicating European Structural and Investment Funds 2014-2020" in Brussels on 9-10 December 2013.
03/12/2013
The European Commission in co-operation with Transparency International is organising on 3 December 2013 between 9 and 5pm in Brussels a Conference on anti-fraud and anti-corruption measures in relation to the use of European Structural and Investment Funds.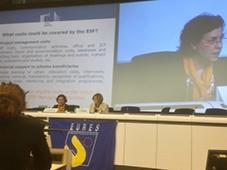 26/04/2013
In the conference held in Brussels on 26 April, EURES Members were invited to take part in presentations about the future funding of EURES through the European Social Fund (ESF), as well as meeting with representatives from ESF in their respective countries and on the European level.

26/11/2012
The conference will discuss with policy makers and practitioner how to best shape EU support to social innovation in the context of the Social Investment Package for Growth and Cohesion.
23/05/2011 - 25/05/2011
As the continuation of the series of High Level Events (HLE), organised in Hungary in 2009 and in Romania in 2010, the European Commission is organising the next HLE in Slovakia.