Événements
Additional tools

20/11/2014 - 21/11/2014
The fourth Annual Convention of the European Platform against Poverty and Social Exclusion took place in Brussels on 20-21 November 2014.
09/10/2014
Speaking at the high-level conference on 'The Europe 2020 poverty target: Lessons Learned and the Way Forward', László Andor, European Commissioner for Employment, Social Affairs and Inclusion, urged Member States to improve their social welfare systems, set more ambitious targets to reduce the number of people at risk of poverty or social exclusion and ensure those targets can be reached.
03/04/2014
Well-designed adequate income support schemes can be powerful tools to fight poverty and increase labour market participation, and therefore contribute to reaching the Europe 2020 target of reducing the number of people in poverty and social exclusion by at least 20 million by 2020.

26/11/2013 - 27/11/2013
The Third Annual Convention of the European Platform against Poverty and Social Exclusion, one of the Flagship initiatives of the Europe 2020 strategy, took place on 26-27 November 2013 in Brussels.
02/07/2013
L'Alliance européenne pour l'apprentissage, dont l'objectif est d'améliorer l'offre et la qualité des apprentissages en Europe, ainsi que de changer les mentalités en faveur d'un type de formation centrée sur l'apprentissage, a été lancée à Leipzig le 2 juillet. Elle devrait permettre aux jeunes de connaître une transition en douceur entre l'enseignement et le travail.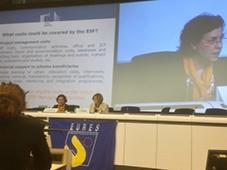 26/04/2013
In the conference held in Brussels on 26 April, EURES Members were invited to take part in presentations about the future funding of EURES through the European Social Fund (ESF), as well as meeting with representatives from ESF in their respective countries and on the European level.
04/03/2013 - 05/03/2013
This European Conference officially launches the Grand Coalition for Digital Jobs by adopting a shared roadmap and announcing stakeholder pledges to joint action.

05/12/2012 - 07/12/2012
En partenariat avec la présidence chypriote, la Commission a organisé la deuxième convention annuelle de la plateforme européenne contre la pauvreté et l'exclusion sociale, du 5 au 7 décembre à Bruxelles.

26/11/2012
Grâce à la participation de gouvernants et de praticiens, cette conférence cherchera à savoir comment adapter au mieux le soutien que l'UE apporte à l'innovation sociale dans le contexte des mesures d'investissement social en faveur de la croissance et de la cohésion.
15/03/2012
Aimed at job seekers in the Czech Republic, the Jobs Expo will take place in the Incheba Arena, Prague.