Événements
Additional tools

05/12/2017
EU cities are invited to participate in the eighth edition of the Access City Award - The European Prize for making cities more accessible to people with disabilities and older people.
27/09/2017 - 28/09/2017
The European Commission, UNECE, the University of the Basque Country, the Oxford Institute of Population Ageing, with the support of the Government of Biscay (Spain), are organising a Second International Seminar on the Active Ageing Index (AAI) in Bilbao in September 2018.
26/06/2017 - 28/06/2017
Organised annually by the European Social Network (ESN), the European Social Services Conference brings together all those with an interest in social welfare to exchange knowledge on contemporary social policy and practice.
19/05/2017
The Work Forum on the implementation of the United Nations Convention on the Rights of Persons with Disabilities (UN Convention) was meeting in Brussels on 19 May.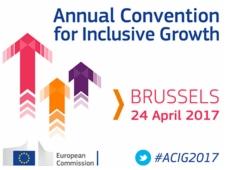 24/04/2017
The Annual Convention for Inclusive Growth took place on 24 April. It brought together policy makers and civil society to discuss what the EU can do to ensure that all citizens reap the benefits of truly inclusive growth.
20/06/2016 - 22/06/2016
The 24th European Social Services Conference (ESSC) explored how public services can collaborate more effectively with local communities and their citizens in combatting poverty and social exclusion.
21/03/2016
Cette convention avait réuni des responsables politiques et des représentants de la société civile pour réfléchir aux actions que l'UE peut mener pour permettre à tous les citoyens de bénéficier des avantages d'une croissance véritablement inclusive.
19/11/2015 - 20/11/2015
The European Anti-Poverty Network (EAPN) was organising a European meeting on Social Convergence in the EU on 19 and 20 November in Brussels with people experiencing poverty.

20/11/2014 - 21/11/2014
The fourth Annual Convention of the European Platform against Poverty and Social Exclusion took place in Brussels on 20-21 November 2014.
12/11/2014 - 13/11/2014
The European Commission and the OECD organised a workshop in Brussels on 12-13 November 2014 for policy makers from the pension and the employment side.