Actividades
Additional tools
Algunas noticias, artículos y actividades pueden estar disponibles sólo en alemán, francés o inglés.
02/10/2014 - 03/10/2014
The European Commission - in cooperation with the Council of Europe - has convened a high level international conference in Brussels on 2 and 3 October 2014 to take stock of progress and lessons learned in integrating Roma at the local level with the support of the ROMACT programme.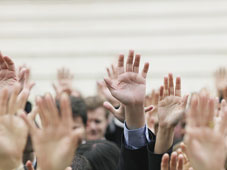 24/11/2011 - 25/11/2011
The conference to be held on 24 and 25 November in Warsaw will focus on the history of social partners' agreements, how they work, their scope and nature, how can they be promoted and prospects for the future.
10/03/2011 - 11/03/2011
The first annual Tripartite Social Forum will be organised on 10-11 March, in the presence of Commissioner László Andor.
30/09/2010
The European Commission, in cooperation with the Belgian Presidency of the EU, is organising a one-day conference on the functioning and potential of European sectoral social dialogue.