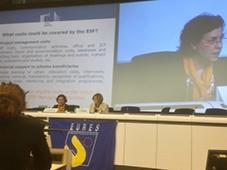 26/04/2013 - 26/04/2013
In the conference held in Brussels on 26 April, EURES Members were invited to take part in presentations about the future funding of EURES through the European Social Fund (ESF), as well as meeting with representatives from ESF in their respective countries and on the European level.
04/03/2013 - 05/03/2013
This European Conference officially launches the Grand Coalition for Digital Jobs by adopting a shared roadmap and announcing stakeholder pledges to joint action.
05/12/2012 - 07/12/2012
The Commission in partnership with the Cyprus Presidency held the Second Annual Convention of the Platform against Poverty and Social Exclusion on 5-6-7 December in Brussels.
26/11/2012 - 26/11/2012
The conference will discuss with policy makers and practitioner how to best shape EU support to social innovation in the context of the Social Investment Package for Growth and Cohesion.