News
Lithuania celebrates the end of the European Year 2012 reminding that it is crucial to support initiatives in the field of active ageing
18/12/2012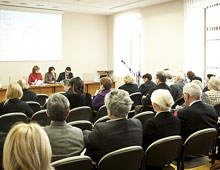 The National Closing Conference of the European Year 2012 in Lithuania took place in Vilnius on December 17th, organised by the Ministry of Social Security and Labour. The Director of Family and Communities Department of the Ministry, Jolanta Zabietienė, opened the event welcoming participants and inviting them to participate and interact in the scheduled debate about solidarity and interrelations between generations.
The National Coordinator of the EY2012, Tomas Milevičius, presented the initiatives and activities organised throughout the year and stressed that "the European Year provided for an excellent opportunity to make the topic of active ageing more visible in the country."
The closing conference also counted on the contribution of Sarmitė Mikulionienė, from the Department of Social Policy of Mykolas Romeris University, who presented some relevant scientific aspects on the recent demographic changes in Lithuania as well as an overview on the evolution of the population and some key facts on the increasing computer literacy among elders. Figures were also compared to the rest of Europe, concluding that "Europe is getting old."
The conference was accompanied by the contributions of different representatives of Lithuanian elderly organisations. In his speech, the Chairman of the Union of Pensioners, Petras Ruzgus, conveyed the idea to the audience that "if you want to live longer, please stay active." Referring to the current socioeconomic situation in Lithuania and how it affects older population, the Third Age University representative, Zita Žebrauskienė, recalled that "our main goal is to change our image and be visible." "Where are elderly people?" concluded Mrs. Žebrauskienė, thus denouncing the lack of specific political and social measures for the third age. 
The closing event represented also a good opportunity for other associations to present their own projects in the field of Active Ageing and Intergenerational Dialogue, showing that the EY2012 helped to provide visibility to their tasks. The debate opened after the presentations and speeches was lively and proved that far from being a secondary issue, initiatives in the field of active ageing are crucial.
A choir of young students was in charge of closing the conference with a folkloric and modern repertoire.
--
Picture gallery of the event.
Click here to browse through a selection of EY2012-related initiatives in Lithuania.
For more information about the European Year 2012 in Lithuania you may visit this website.