Events
Additional tools
15/03/2018 - 16/03/2018
European Conference - The European Qualifications Framework: supporting learning, work and cross border mobility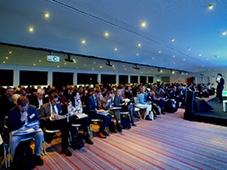 © Shutterstock / Production Perig
The European Commission is organising a conference on 15-16 March in Brussels to celebrate 10 years of existence of the European Qualifications Framework (EQF).
The event will shine a light on the achievements of a decade of cooperation on the EQF. It will also look at the challenges and opportunities of the future.

The first day will examine the main impacts and achievements of the EQF through thematic workshops. The second day will open a policy debate on the role of the EQF in changing labour markets and education and training systems.
Due to high demand, the conference is now fully booked.
You can follow the conference live via web streaming.
You can also follow the discussions online using the hashtag #EQF_EU.
For further information please contact: EMPL-EQF-CONFERENCE-2018@ec.europa.eu.
Pictures on

Address: Square Brussels Meeting Center, rue Ravenstein 2, 1000 Brussels