17/07/2018
Updated information (up to January 2018) on social protection systems in all EU countries, Iceland, Liechtenstein, Norway and Switzerland – including brief descriptions of their organisation and information on the social protection of the self-employed – is now available on the MISSOC website.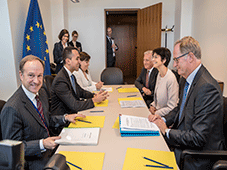 26/06/2018
Last week EU Member States reached an agreement on three legislative files which are a cornerstone of building a stronger social Europe.
17/05/2018
The April issue of our Social Agenda magazine focuses on the notion of fairness: fair cross-border mobility, with the creation of a European Labour Authority; and social fairness with a Recommendation on access to social protection for the almost 40% of people employed in the EU who are either in an "atypical" employment situation or self-employed.