Events
Additional tools
24/02/2014 - 25/02/2014
The European Commission (DG Employment, Social affairs and Inclusion) together with the OECD (Migration Division) is organising a conference on migration and mobility and how to match economic migration with labour market needs.
23/09/2013 - 23/10/2013
Between 23 September and 23 October 2013, the European Union will organise one month of online debates on the Single Market.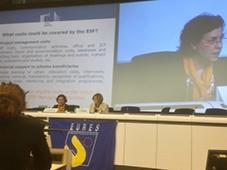 26/04/2013
In the conference held in Brussels on 26 April, EURES Members were invited to take part in presentations about the future funding of EURES through the European Social Fund (ESF), as well as meeting with representatives from ESF in their respective countries and on the European level.
06/11/2012
The Independent Network of Labour Migration and Integration Experts (LINET) is organising a conference on 6 November at the Management Centre Europe in Brussels to shed light on the issue of access to labour market information for migrants and employers.
05/10/2012
The aim of this seminar is to understand whether the fundamental rights of free movement and citizenship are properly implemented and whether EU nationals receive the treatment they are entitled to by the Treaty of Lisbon and the Charter of Fundamental Rights of the European Union.
14/06/2012
The seminar will address the issue of free movement of workers in the Czech and Slovak legislation and in the practices of the authorities of the Czech Republic and Slovakia.
31/05/2012
The regional seminar between Sweden and Denmark focuses on cross-border working and living.
03/11/2011 - 04/11/2011
The European Network on Free Movement within the European Union (EU) is holding its annual conference in Bucharest, on 3 and 4 November.
16/09/2011
The European network on free movement of workers within the European Union organises specific seminars to deepen the analysis and dissemination of issues concerning mobility in particular regional contexts.
19/06/2011 - 20/06/2011
One of the objectives of the EU 2020 strategy for jobs and growth is to facilitate and promote intra-EU labour mobility to better reach the employment target set.