Events
Additional tools
24/02/2014 - 25/02/2014
The European Commission (DG Employment, Social affairs and Inclusion) together with the OECD (Migration Division) is organising a conference on migration and mobility and how to match economic migration with labour market needs.
23/09/2013 - 23/10/2013
Between 23 September and 23 October 2013, the European Union will organise one month of online debates on the Single Market.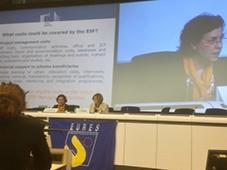 26/04/2013
In the conference held in Brussels on 26 April, EURES Members were invited to take part in presentations about the future funding of EURES through the European Social Fund (ESF), as well as meeting with representatives from ESF in their respective countries and on the European level.
06/11/2012
The Independent Network of Labour Migration and Integration Experts (LINET) is organising a conference on 6 November at the Management Centre Europe in Brussels to shed light on the issue of access to labour market information for migrants and employers.
25/11/2010 - 26/11/2010
The European Network on Free Movement within the EU is holding the "Annual conference on Free Movement of Workers" in London, on 25 and 26 November.
26/02/2009 - 27/02/2009
The conference program will be divided in three thematic parts.
28/11/2008
The European Commission set up in 2005, an ad-hoc group, the High-Level Group on Transitional Arrangements in order to strengthen cooperation between its services and Member States' authorities.
08/10/2008 - 09/10/2008
On October 9th, the European Commission organised a Forum on Workers' rights and economic freedoms.
02/10/2008 - 03/10/2008
The EURES annual cross-border conference is a joint conference of the EURES Managers, the representatives of the 22 EURES cross-border partnerships and other cross-border initiatives financed through EURES.