Schlagzeilen
20/12/2017
The FEAD Network has published its second Thematic Dossier. This thematic dossier presents the main outcomes of FEAD Network discussions in 2017 on supporting a variety of target groups through FEAD-funded initiatives.
12/12/2017
During the eighth FEAD Network meeting in Paris on 13-14 November, the FEAD network had the opportunity to get to know stakeholders and organisations operating within France's capital city.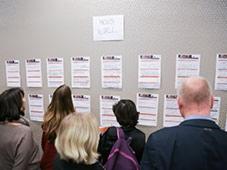 23/11/2017
The 8th FEAD Network meeting took place in Paris on 13-14 November. During the two day event, members discussed the 'many faces of FEAD' across EU countries and the possible implementations of the Fund for European Aid to the Most Deprived (FEAD) programme post 2020.
18/10/2017
FEAD Network's first Thematic Dossier has just been published. It presents the key learning outcomes from the various Network discussions on sustainable social inclusion.
09/10/2017
The 7th FEAD network meeting took place in Brussels on 21 September.
31/07/2017
Der Europäische Hilfsfonds für die am stärksten benachteiligten Personen (FEAD) bietet durch Bereitstellung von Essen und grundlegenden Gütern wie Bekleidung, Schuhe und Hygieneartikel den am stärksten benachteiligten Gruppen in der Gesellschaft Unterstützung und organisiert auch Aktivitäten zur sozialen Eingliederung.