Arrangementer
Additional tools
Bemærk venligst, at visse nyheder, emner og begivenheder måske kun findes på engelsk, fransk og/eller tysk.
04/07/2018
There is a significant emergence of new forms of employment characterised by unconventional work patterns and places of work, or by irregular provision of work, and by a wide range of contractual arrangements.
31/01/2018
The regional conference will take place in Belgrade on 31 January, and will support joint governance efforts by the EU and enlargement countries on reforms for improving the economic and social situation of all citizens in the Western Balkans and Turkey.
25/09/2017 - 26/09/2017
DG Employment, Social Affairs and Inclusion and China's Ministry of Human Resources and Social Security will meet on 25 and 26 September in Brussels to discuss evolving industrial relations and its impact on sound working conditions and wage developments.
25/02/2016 - 26/02/2016
A workshop in the framework of the EU-US Working Group on Labour and Employment-related Issues discussed the quality, supply, and image of innovative apprenticeships in Brussels on 25-26 February.
05/03/2015
A high level conference marking the new start for social dialogue took place in Brussels on 5 March in the presence of the President of the European Commission.
02/10/2014 - 03/10/2014
On 2nd and 3rd October 2014 in Brussels, more than 400 participants from over 30 countries attended the conference "Roma inclusion on the ground - the ROMACT approach".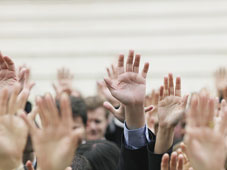 24/11/2011 - 25/11/2011
The conference to be held on 24 and 25 November in Warsaw will focus on the history of social partners' agreements, how they work, their scope and nature, how can they be promoted and prospects for the future.
10/03/2011 - 11/03/2011
The first annual Tripartite Social Forum will be organised on 10-11 March, in the presence of Commissioner László Andor.
30/09/2010
The European Commission, in cooperation with the Belgian Presidency of the EU, is organising a one-day conference on the functioning and potential of European sectoral social dialogue.