EU Cohesion Policy post-2020: supporting new and traditional demands
11/05/2018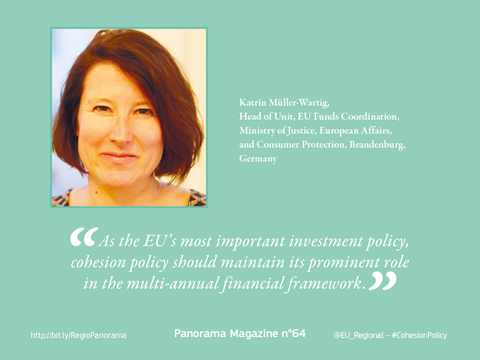 In Brandenburg, EU Cohesion Policy has contributed significantly to the success of the transformation process since German reunification in 1991 and to strengthening competitiveness and employment in the region. Thanks to this support, Brandenburg has been included in the funding category for transitional regions since 2014.
Despite its positive development, the region will still require the support of the EU even after 2020 in order to consolidate its achievements to date and further promote them. The goal of a self-sustaining economic structure has not been reached and various development gaps, such as the low level of research and innovation in the private sector and insufficient integration in international economic cycles, will not be fully complete by 2020.
For regions such as Brandenburg in the east of Germany, there is also a need to mitigate the negative consequences of being 'sandwiched' between the highly developed regions in the west of Germany and areas that receive maximum EU funding in neighbouring Central and Eastern Europe.
Therefore, Brandenburg requests that the Cohesion Policy is continued for all European regions after 2020. As the EU's most important investment policy, it should maintain its prominent role in the multi-annual financial framework. It acts as a transmission belt for EU objectives and priorities in European regions. Furthermore, because of Cohesion Policy projects, the EU has become a visible and tangible entity for local people. This is your special European added value.
While Cohesion Policy should continue to focus on the less-developed regions, Brandenburg believes it is necessary to increase the amount of funding available for transitional and more-developed regions under the policy. These regions contribute more than average to economic strength and the achievement of EU-wide objectives. Regions currently assigned as transitional must be supported through targeted effective investments in favour of less-developed areas.
Brandenburg considers the introduction of a separate fund to promote national structural reforms at the expense of the Cohesion Policy, or a Cohesion Policy focus on general government structural reforms, to be extremely critical. Structural reforms can only work in a sustainable manner if they are supported locally by targeted structural measures, such as the promotion of innovation, support for SMEs, or ensuring skilled specialists. Increasing resources for national structural reforms at the expense of such Cohesion Policy measures on a regional level would be counterproductive.
The future multi-annual financial framework must – despite the initial difficulties posed by Brexit – meet the numerous new challenges facing the EU. Thus, Brandenburg calls for the EU to be financially strengthened to avoid important new EU priorities in areas such as energy and climate policy, migration and security being forced to compete with the traditional remits of the EU Cohesion Policy.
KATRIN MÜLLER-WARTIG
Head of Unit, EU-Economic and Financial Policies, EU-Funds Coordination
Ministry of Justice for European Affairs and Consumer Protection, Land Brandenburg
Panorama 64: Cohesion Policy: 30 years investing in the future of European Regions