ESI Funds: strengthening European regions and solidarity
12/01/2018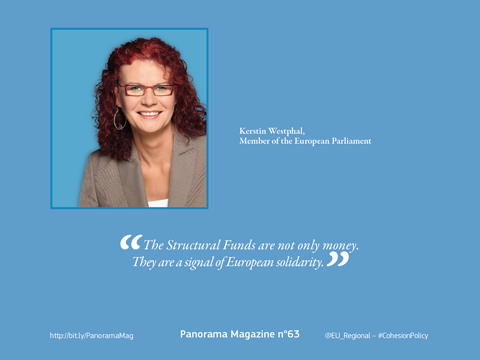 "The Structural Funds are not only money. They are a signal of European solidarity."
MEP Kerstin Westphal, who is also a member of the European Parliament's Committee on Regional Development, details her views and expectations on ESI Fund implementation and impact to date.
What is your opinion on the implementation so far of the ESI Funds for 2014-2020?
We had a late start. The first year of this period was lost, at least for some regions. In my opinion, things have sped up since then, and at this stage I have the impression that the implementation is going well. The funds arrive where they are needed, and great projects are under way.
I think it is too early to have the big picture, but I have also heard from people on the ground that some simplification measures are appreciated, and that the thematic concentration is working – which means that we are really focusing on a few, important priorities.
Beyond the financial support that ESI Funds give to Member States, what other positive impacts of the Funds do you see?
The Structural Funds are not only money. They are a signal of European solidarity. In the field of European territorial cooperation, I see people from different countries working together to strengthen their regions. And when I think of regions reducing their CO2 emissions or creating jobs, we can see that good ideas are being supported. That is what I love about ESI funds – they help regions to be creative and actually work for the people.
One of the key goals for this period is to make sure the ESI Funds and the European Fund for Strategic Investments work closely together. What is your opinion of this joint work and how could we do better?
I think this cooperation is improving – also with the so-called 'Omnibus' regulation. Nevertheless, despite their very similar names, ESIF and EFSI have different approaches. Cooperation between these two funds might work when it comes to larger projects, but from my experience it is the ESI Funds which really help with small and medium-sized projects on the ground in many regions. As rapporteur of the European Parliament, I can say that the Parliament does not want the EFSI to undermine the strategic coherence, territorial concentration and long-term perspective of Cohesion Policy programming.
In the context of the upcoming Multiannual Financial Framework, 2018 will be a key year for Cohesion Policy post-2020. What are your expectations regarding the future of this policy?
Next year – as well as 2019 – will indeed be decisive years. My expectations start with these dates: I think we should avoid a situation like last time, when the start of many Operational Programmes was delayed. Regions need to know in time what they have to expect.
Apart from this, my report for the European Parliament asks for further simplification. With the High Level Group that Commissioner Creţu created, I feel that we can get some real improvements in this field. Also, the EP is asking for more flexibility. Our regions should be able to respond to new, unforeseen challenges that might arise in, say, 2025.
And last but not least: the actual discussion about the future MFF, and Commissioner Oettinger's true words that "more European tasks will need to be tackled with less money", should not lead to a weakening of Cohesion Policy. As I said: ESI Funds are a symbol of solidarity, which make regions creative. That should be maintained – in all European regions.
Panorama 63 - The Outermost Regions: joining forces across the EU