Citizens' perception of EU regional policy on the rise latest Eurobarometer shows
29/06/2017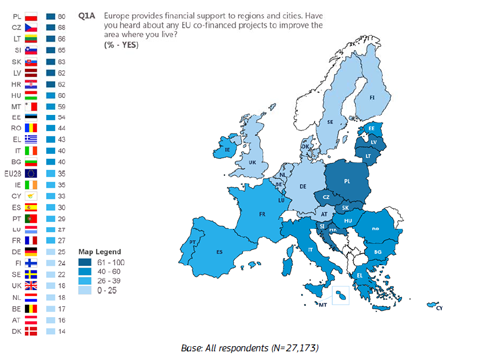 More than three in four EU citizens, 78%, see a positive impact of EU regional investments in their city or region (up 3 percentage points (pp) from 2015). This is one of the key findings of regional policy Eurobarometer 452, which was published today. Citizens' generally positive opinion about Regional policy is also reflected in their view that it should continue investing in all EU regions: 53% of Europeans expressed this opinion.
Awareness about EU regional funding more generally is also slightly up at 35% (+1pp), compared to 2015. Naturally, there are large differences between countries, broadly reflecting the level of importance EU regional funds may have for a country: for instance, in Poland 80% of citizens are aware of this policy, compared to 14% in Denmark.
For the first time, the survey asked about the European Solidarity Fund: nearly 6 in 10 respondents (59%) have heard about this European fund, which provides relief to EU citizens living in areas hit by major disasters. This is the case, for example, of earthquakes in Italy in 2016.
Please consult the Eurobarometer report for further details regarding citizens' funding priorities, preferred information sources, knowledge of Interreg, macro-regional strategies and outermost regions.
If you are interested in the main results for specific countries, check out the concise country fact sheets, which provide the key trends in the national language(s) and English, on the homepage of this survey.