Moving Beyond GDP: The final EU Regional Social Progress Index
13/10/2016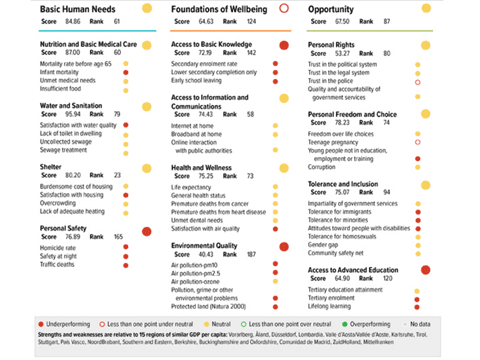 The final version of the EU Regional Social Progress Index, released on October 11th 2016, measures social progress for each of the 272 regions of the 28 member states of the European Union. The index consists of three dimensions: Basic Human Needs, Foundations of Wellbeing and Opportunity described by 50 social and environmental indicators. The deliberate exclusion of economic indicators means that the Index measures social progress directly, rather than utilizing economic proxies.
Basic human needs are reached across almost all the EU regions, with only some regions of the Member States, which joined in 2004 and after, performing less well. Foundations of Wellbeing show more variation with only Ireland and the Nordic Member States scoring well in all their regions. Opportunity is the dimension with biggest discrepancies with the highest scores in the Netherlands the Nordic EU regions and low scores in many regions in southern and eastern EU.
Although GDP per head is correlated with the Social Progress Index, regions with similar levels of GDP per head can have widely different social progress levels; whilst similar social progress can be achieved even at very different economic stages. The regions with the highest GDP per head are not the top performers in terms of social progress. Capital regions often perform in line with or even better than the national average but Brussels is an exception, performing worse than the national average in Belgium.
Measuring social progress can inform the development strategies of EU regions. This new regional index is intended to:
help regions to identify peers, at any level of economic development, from whom they could learn and, if applicable, prioritise issues they want to address with their Cohesion Policy Programme ;
serve as a sounding board for the European Commission to assess whether the EU funding programmes address the right issues in the right places;
allow DG Regio to make an contribution to the GDP and beyond debate.
The EU Regional Social Progress Index is the result of a three-year cooperation among the Directorate-General for Regional and Urban Policy of the European Commission, the Social Progress Imperative and Orkestra—a Basque Institute of Competitiveness. It follows the overall framework of the Global Social Progress Index, customised for the EU using indicators primarily drawn from Eurostat data. The draft version was released in February 2016 for public review. Prior to this release, DG Regio and Social Progress Imperative co-hosted a committee meeting of experts in the field of wellbeing and social indicators. The final Index builds on feedback and comments collected during these activities.
Please note that the EU Regional Social Progress Index is not created for the purpose of funding allocation and does not bind the European Commission in any way.
More information
Explore the EU Regional Social Progress Index (interactive maps, region scorecards, data and methodology):