PEACE funding is bringing divided communities together
21/03/2016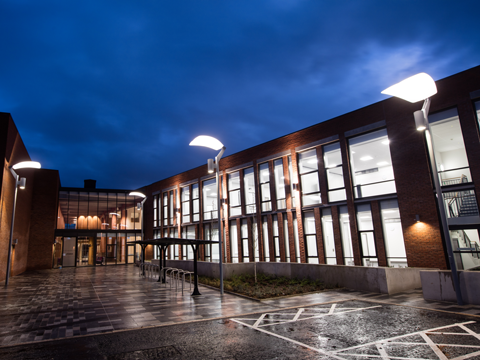 An historic sectarian conflict zone in the heart of North Belfast has been completely transformed thanks to EU PEACE funding.
With the creation of the Girdwood community hub, a derelict space which was once the backdrop to violent clashes between neighbouring Protestant and Catholic communities will now facilitate positive cross-community contact through sport and other social activities.
The transformation would not have happened without the support of the EU's PEACE III Programme which has contributed to peace and stability across Northern Ireland and the Border Region of Ireland over the past two decades. Unique across all 28 Member States, this Programme has been in operation since 1995 and has supported the region with around EUR 2 billion.
The PEACE IV Programme 2014-2020, which is managed by the Special EU Programmes Body (SEUPB), was recently adopted with an allocation of EUR 270 million (EUR 229 million from the ERDF).
Given the success of the many shared space initiatives, such as the Girdwood hub, across the PEACE III Programme's eligible area, this funding will continue in PEACE IV. The Programme will support the creation of many more new shared space developments and locally based initiatives designed to make public spaces in cities, towns and villages more inclusive.
To ensure a lasting impact in the region, the PEACE IV Programme will target children and young people inside and outside the school environment. Both Ireland and Northern Ireland have a large youth population: over one-third of Northern Ireland's population is under 25 and thus has had no direct experience of past violent conflicts. Despite this, the underlying issues of segregation and exclusion remain very prevalent among this age group.
Consequently, a significant sum within PEACE IV will assist marginalised and disadvantaged young people, on both sides of the border, who are at risk of becoming involved in antisocial behaviour, violence or dissident activity. The Programme aims to give them a sense of belonging and encourage them to become involved in cross-community relationship building and citizenship development.
In Northern Ireland, 92.6 % of children attend schools that are predominantly associated with one community. In Ireland, over 90 % of schools are owned and maintained by the Catholic Church. This severely limits their opportunities to associate with and learn from others from different backgrounds. PEACE IV will fund shared education initiatives to create direct and sustained curriculum-based contact between pupils and teachers from all backgrounds.
Given the success of the many shared space initiatives across the Programme's eligible area, significant assistance will be provided for similar initiatives. PEACE IV will support many more new shared space developments as well as locally based initiatives to make public spaces in cities, towns and villages more inclusive.
Due to the history of division in Northern Ireland and the Border Region of Ireland, some sections of society have yet to deal with diversity and difference. Thus, a large part of the Programme will focus on promoting positive relations at a regional-wide level and through local authority-led partnerships.
A regional-wide approach developed to support those who have suffered from the trauma of conflict will be coordinated by the Victims and Survivors Service in Northern Ireland.
More Information