"Respecting and promoting justice and fundamental rights" - Contribution of the European Structural and Investment Funds to the 10 Commission Priorities
22/12/2015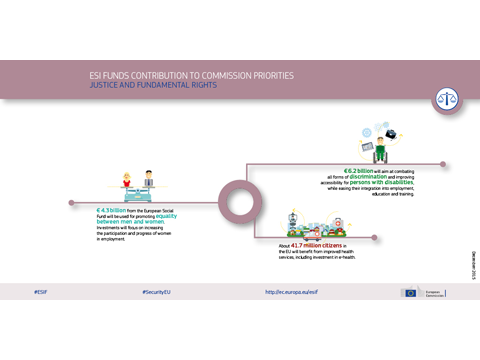 The European Union values human dignity, freedom, democracy, equality, the rule of law and respect for human rights. Europeans share these values which are set out in EU Treaties and the Charter of Fundamental Rights. A European justice area without borders ensures that citizens can rely on and call on a set of rights as needed.
Regional, local and other public authorities involved in managing the European Structural and Investments Funds (ESIF) are under a legal obligation to respect the provisions of the Charter when they act under the scope of EU law. If this legal obligation is not respected, those who have been violated can, in certain cases, claim damages before a national court.
Three general ex ante conditionalities covering non-discrimination, gender and disabilitywere introduced to ensure the existence of administrative capacity for the implementation and application of EU law and policy in these areas.
Links: